July 20 - 29, 2018
Young Frankenstein
Nathan H. Wilson Center for the Arts
The Summer Musical Theatre Experience (SMTE) provides the opportunity for local area high school students to work hands-on with some of the highest recognized local theatre professionals at the FSCJ Nathan H. Wilson Center for the Arts.
The Florida State College at Jacksonville High School Summer Musical Theatre Experience is celebrating its 13th year providing theatre opportunities to 7th-12th graders in the First Coast area. This summer, more than 70 student performers and technicians will train with professional theatre artists in preparation for our production of Young Frankenstein
From the creators of the record-breaking Broadway sensation, The Producers, comes this monster new musical comedy. The comedy genius, Mel Brooks, adapts his legendarily funny film into a brilliant stage creation – Young Frankenstein!
Grandson of the infamous Victor Frankenstein, Frederick Frankenstein (pronounced "Fronk-en-steen") inherits his family's estate in Transylvania. With the help of a hunchbacked sidekick, Igor (pronounced "Eye-gore"), and a leggy lab assistant, Inga (pronounced normally), Frederick finds himself in the mad scientist shoes of his ancestors. "It's alive!" he exclaims as he brings to life a creature to rival his grandfather's. Eventually, of course, the monster escapes and hilarity continuously abounds.
Every bit as relevant to audience members who will remember the original as it will be to newcomers, Young Frankenstein has all the panache of the screen sensation with a little extra theatrical flair added. It will surely be the perfect opportunity for a production company to showcase an array of talents. With such memorable tunes as "The Transylvania Mania," "He Vas My Boyfriend" and "Puttin' on the Ritz," Young Frankenstein is scientifically proven, monstrously good entertainment.
Performances: July 20-22 and 27-29, 2018
Where: Florida State College at Jacksonville, South Campus
FSCJ Nathan H. Wilson Center for the Arts
11901 Beach Boulevard
Jacksonville, FL 32246
Payment by Phone: (904) 646-2222 or (904) 632-5000
Audition Information
Performers: Current 7th through 12th grade students interested in acting, singing, and dancing. No previous musical theatre experience necessary! Please attend only one audition date.
- Saturday, May 5, 2018 at 10 a.m.
- Sunday, May 6, 2018 at 1 p.m.
Technicians: For current 8th - 12th grade students interested in set construction, props, sound, costumes, lights and stage make-up.
- Applications are due by May 14th.
- Submit application to Ashley.C.Weldon@fscj.edu or fax to (904) 646-2336.
If you have any questions, please call (904) 646-2347
Important Audition Material
Please "like" our Facebook page
Book Online
Nathan H. Wilson Center for the Arts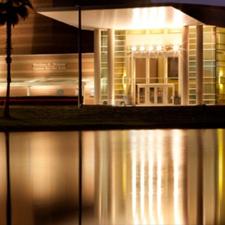 Location Information
11901 Beach Blvd.
Jacksonville, FL 32246
Directions