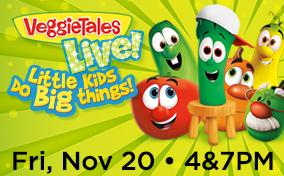 FSCJ Artist Series Presents Veggie Tales Live! on November 20, 2015
VeggieTales Live! Little Kids Do Big Things Tour is coming to Jacksonville's Times-Union Center's Moran Theater for two performances only, on November 20, 2015!
Bob the Tomato, Larry the Cucumber and all of their Veggie friends are coming to Jacksonville in the all new fresh, funny, and unforgettable VeggieTales Live! Little Kids Do Big Things tour.
VeggieTales Live! Little Kids Do Big Things is a must-see, fun filled celebration for families and VeggieTales fans of all ages. Join the VeggieTales crew in a musical review that celebrates that with help and faith, even little kids can do big things too!
This all new production features live performances of Veggie silly song favorites like The Hairbrush Song and I Love My Lips as well as songs that inspire like Big Things Too. Children will be thrilled to see their favorite Veggie friends live on stage performing in a rollicking musical review of VeggieTales greatest hits. This high-energy show is sure to delight children and families of all ages.
VeggieTales is the bestselling brand that delivers stories and songs kids love and values parents appreciate. It is the go to brand for families for wholesome quality entertainment that promotes values and lessons kids use for a lifetime such as telling the truth, sharing and forgiveness.
For the most up to date tour itinerary and additional ticket and tour information please visit www.artistseriesjax.org.
ADVANCE MEDIA APPEARANCES AVAILABLE UPON REQUEST
ABOUT BIG IDEA ENTERTAINMENT, LLC :
Big Idea Entertainment, a division of DreamWorks Animation SKG, Inc., is the studio and producer of VeggieTales, the preeminent faith-based, children's entertainment brand that uses hilarious storytelling, silly songs and lovable characters to present meaningful life lessons with faith-based values. Since 1993 VeggieTales, has sold more than 70 million videos, 15 million books and 7 million CD's. The beloved faith-based brand has a fresh new look as Bob the Tomato, Larry the Cucumber and all their Veggie friends venture off the countertop for the first time ever in their Emmy® Award-nominated* television series, VeggieTales in the House, exclusively on Netflix. Big Idea also maintains an extensive presence in publishing, licensing and live entertainment arenas. For more information on Big Idea, visit: www.VeggieTales.com.
*Nominee: Outstanding Pre-School Children's Animated Program
ABOUT TCG ENTERTAINMENT & ACT 5 ENTERTAINMENT:
Veggie Tales Live is co-produced by TCG Entertainment and Act 5 Entertainment.
TCG Entertainment, LLC: TCG Entertainment www.TCGENT.com is the industry leader in the creation, production and booking of live entertainment productions including family, theatrical, and symphonic productions. TCG has over 20 years of experience in the entertainment industry. Current productions include Veggie Tales-Little Kids Do Big Things, multiple productions of Cirque Musica www.CirqueMusica.com, REWIND-Celebrating the 80s, and A Night of Symphonic Rock. TCG Entertainment President and CEO is Stephen Cook.
Act 5 Entertainment, LLC: Act 5 Entertainment develops, produces and manages theatrical and arena productions on a worldwide basis. Act 5's foundation rests on the global experience, talent, and contacts that Eric Eislund has established over the past 25 years successfully developing, operating and promoting entertainment ventures in over 40 countries. Eric has worked closely with a variety of global brand owners including Warner Bros., Disney, Universal Studios, Viacom, Cirque du Soleil, the NFL and with a variety of global media and promoting partners in markets around the globe. www.act5ent.com.
Veggie Tales Performance Schedule:
Friday, November 20 at 4pm
Friday, November 20 at 7pm
Tickets to VeggieTales Live! Little Kids Do Big Things tour start at $19.50 can be purchased at www.artistseriesjax.org, by phone (904)442-2929 or at the box office, Monday – Friday from 10am-5pm.
A limited number of VIP tickets are available, which include premium seating and a special meet and greet with your favorite VeggieTales characters are also available!
Group discounts for 10+ are available by contacting groupsales@fscj.edu or (904)442-2947.
Please contact Ashley Williams at (904) 442-2933 or ashley.williams@fscj.edu for cast bios, high-resolution photos, and more information for Veggie Tales in Jacksonville.