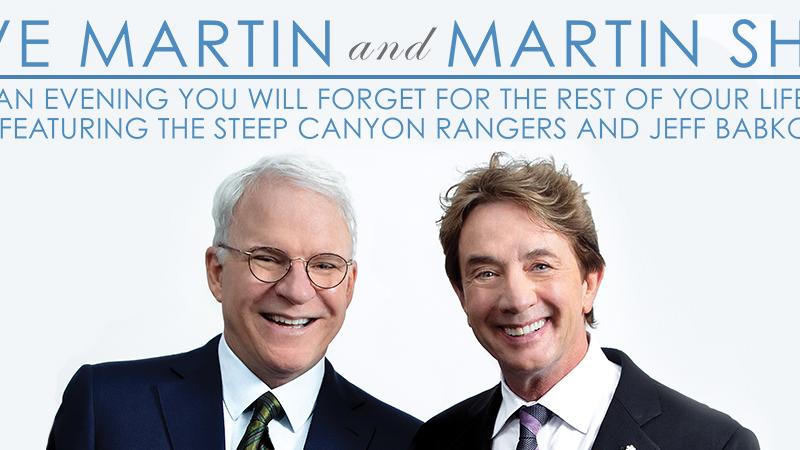 FSCJ Artist Series Presents Steve Martin & Martin Short, March 9 at 8 p.m.!
Steve Martin and Martin Short: An Evening You Will Forget For The Rest Of Your Life, featuring the Steep Canyon Rangers and Jeff Babko will delight audiences for one performance only!
Longtime comedians Steve Martin and Martin Short will perform a one-night only show at the Times-Union Center on March 9, 2018 at 8 p.m.
The show, "An Evening You Will Forget for the Rest of Your Life," includes stand-up, film clips, musical numbers and conversations about their lives in show business.
Martin and Short will also be joined by the Grammy® Award-winning Steep Canyon Rangers, the bluegrass band with which Martin frequently performs, and Jeff Babko.
STEVE MARTIN
Steve Martin is an American actor, comedian, writer, producer and musician. Since the late 70s, Martin has been performing professionally and has earned Emmy, Grammy, and American Comedy awards, among other honors. He was represented on Broadway in 2013 with "Bright Star," written in collaboration with Edie Brickell, and currently with "Meteor Shower," starring Amy Schumer.
MARTIN SHORT
Martin Short is a Canadian-American, Tony Award-Winning actor and comedian, known for creating the roles of Jiminy Glick and Ed Grimley. His career has spanned over four decades and has included roles on television, film and stage.
STEEP CANYON RANGERS
GRAMMY® Award-winning Steep Canyon Rangers unveil their highly anticipated ninth studio album, RADIO, a project that further illustrates the band's dynamic songwriting, instrumental virtuosity and high-energy performance. Members Woody Platt (guitar), Graham Sharp (banjo), Charles R. Humphrey III (bass), Mike Guggino (mandolin), Nicky Sanders (fiddle) and Mike Ashworth (box kit) are also known for collaborations with actor/comedian and respected banjo player Steve Martin and esteemed singer-songwriter Edie Brickell.
JEFF BABKO
Pianist/keyboardist Jeff Babko is a native of Southern California, and has remained on the west coast throughout his career. Television work began with Martin Short's syndicated talk show in 1999/2000, and later on the Wayne Brady daytime show. For the past 11+ years, most significantly, Babko has been the musical arranger, a composer, and house band member on ABC TV's "Jimmy Kimmel Live". He's backed up countless rock, pop and jazz artists on the show, and has produced much of the music for its comedy segments. Always keeping one foot dipped in comedy territory, Babko has been the touring musical director and accompanist for Martin Short since 2002.