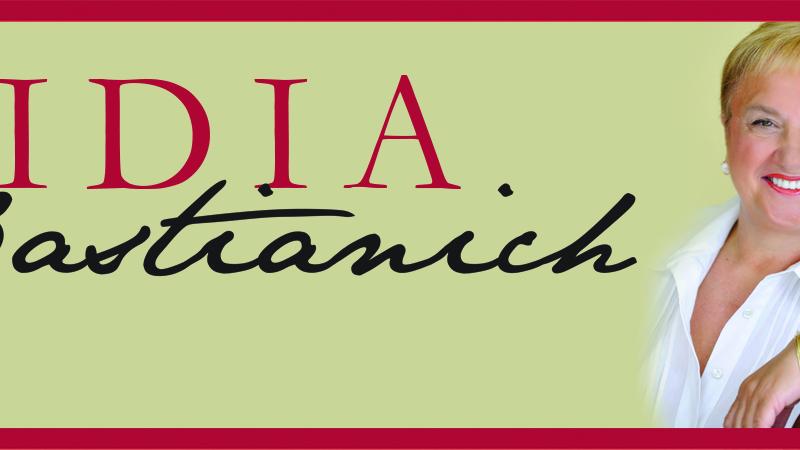 FSCJ Artist Series Presents Lidia Bastianich on December 3, 2016!
Following the release of her new book, Lidia's Mastering the Art of Italian Cuisine: Everything You Need to Know to be a Great Italian Cook, join the Emmy-winning host of Public Television's "Lidia's Kitchen" and "Lidia's Italy," Lidia Bastianich, on December 3, 2016 at 8 p.m. at the Times-Union Center for an evening of conversation and storytelling celebrating our love of Italian food.
The best-selling author is a beloved ambassador for Italian culinary traditions throughout the world. Her multiple culinary endeavors have married her two passions in life – her family and food.
Lidia's extensive experience as a chef and restaurateur include acclaimed New York City restaurants Felidia, Becco, Esca and Del Posto as well as Lidia's in Pittsburgh and Kansas City. She and her team opened Eataly, the largest artisanal Italian food and wine marketplace in New York City, Chicago, and Sao Paolo. A second New York City location of Eataly as well as new marketplaces in Los Angeles and Boston open in 2016. LIDIA's pasta and sauce can be found in supermarkets nationwide.
In addition to Lidia's Mastering the Art of Italian Cuisine, Lidia's cookbooks, co-authored with her daughter Tanya, include Lidia's Commonsense Italian Cooking, Lidia's Favorite Recipes, Lidia's Italy in America, Lidia Cooks from the Heart of Italy, and Lidia's Italy—all companion books to the Emmy winning and three time nominated television series Lidia's Kitchen, Lidia's Italy in America and Lidia's Italy.
Lidia's first children's book, Nonna Tell Me a Story: Lidia's Christmas Kitchen, was inspired by her five grandchildren. The second installation in the series, Lidia's Family Kitchen: Nonna's Birthday Surprise, was released in the Spring of 2013, and her third was released in January 2015.
Tickets start at $66.75 and are on sale now. A limited number of VIP tickets that include a signed copy of her new book and the best seats in the house are available.
Discounts for groups of 10+ are available by contacting groupsales@fscjartistseries.org or (904) 442-2947.
Please contact Ashley Williams at (904) 442-2933 for interview opportunities and high-resolution photos for this engagement in Jacksonville.