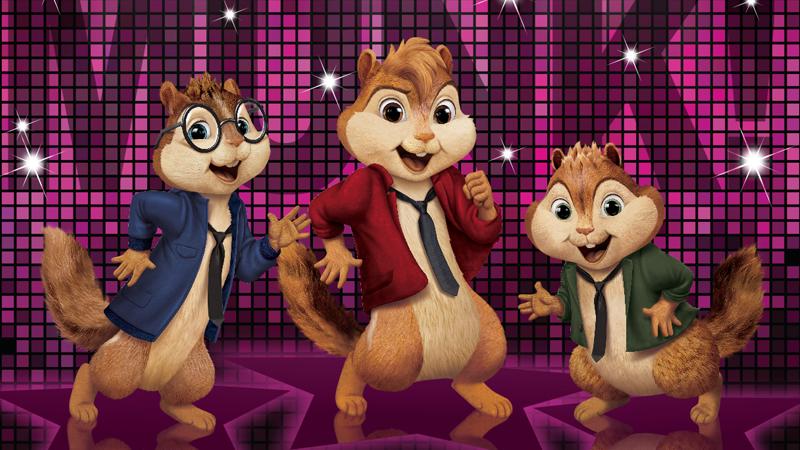 FSCJ Artist Series Presents Alvin and the Chipmunks Live on Stage October 17th
Alvin and the Chipmunks, LIVE on Stage comes to Jacksonville's Times-Union Center's Moran Theater on October 17th for two performances only! Tickets for Alvin and the Chipmunks, LIVE on Stage are on sale now, starting at $26.50.
Twentieth Century Fox Consumer Products and Iconic Entertainment Studios announced today that ALVIN AND THE CHIPMUNKS: LIVE ON STAGE!, a brand new, music-filled interactive live show, will take the Times Union Center's stage October 17th for two performances only! The world's most famous chipmunk trio – accompanied by the Chipettes – will delight fans of all ages with a LIVE performance that will feature world-class production, music, special effects, and immersive interactivity to encourage audience participation.
Based on the characters from the hit Twentieth Century Fox movies, the show will bring the music and excitement of a live rock concert to life as the Chipmunks perform hits by One Direction, Maroon 5, Carly Rae Jespen, Elvis Presley and more! Join Alvin, Simon and Theodore as they sing and dance their way across America en route to their big charity concert. From an "old school" breakdancing competition in Chicago, to a no-holds-barred food fight in New York City, and with the Chipettes along for the wild ride, Chipmunk fans from coast to coast will experience it all –LIVE on stage!
Produced by Iconic Entertainment Studios, the show's world-class team includes Tony Award- winning Lion King costume designer Michael Curry, and the production team that won a Billboard Touring Creative Content award for its show Yo Gabba Gabba.
About Twentieth Century Fox Consumer Products: A division of 21st Century Fox and recognized industry leader, Twentieth Century Fox Consumer Products licenses and markets properties worldwide on behalf of Twentieth Century Fox Film Corporation, Twentieth Century Fox Television and Fox Broadcasting Company, as well as third party lines. The division is aligned with Twentieth Century Fox Television, the flagship studio leading the industry in supplying award-winning and blockbuster primetime television programming and entertainment content.
About Iconic Entertainment Studios: Iconic Entertainment Studios is Michael Cohl's diversified international family show and event entertainment company specializing in the acquisition, development and production of high caliber touring exhibitions, unique live music tours and events, theatrical performances, and consumer and multimedia product offerings. Clients have included The Rolling Stones, U2, Pink Floyd and many others throughout the world. Current and recent productions include: Barbra Streisand, David Gilmour, Spider-Man: Turn Off the Dark, The Marvel Experience, Rock of Ages, An Evening with Al Pacino, A Night with Janis Joplin, Super Why!, Rudolph The Red Nosed Reindeer and Alvin and The Chipmunks. For additional information, visit: www.s2bnentertainment.com
Tickets for Alvin and the Chipmunks, LIVE on Stage in Jacksonville are available for pre-sale now, with the code CHIPMUNK, through the FSCJ Artist Series, sponsored by Chase, the official presenter of the Jacksonville show. Tickets will be on-sale with no code necessary starting July 10th, 2015. Tickets start at $26.50 at can be purchased at www.artistseriesjax.org, (904) 442-2929, and the FSCJ Artist Series Box Office between 10AM-5PM, Monday-Friday. 8 ticket limit per order. Children who have not yet reached their 2nd birthday do not require a ticket if they sit on their parents lap.
Discounts are available for groups of 10 or more at (904) 442-2947 or groupsales@fscj.edu.
Chipmunk Party Packages will be available for purchase. This VIP package includes one (1) ticket in the first 7 rows, a meet and greet photo opportunity with Alvin and the gang (bring your own camera), one (1) backstage pass to a private party with your friends Alvin, Simon, Theodore, The Chipettes, & Dave. This party includes music, dancing, crafts, games, snacks and FUN - you never know what Alvin has up his sleeve!
Alvin and the Chipmunks LIVE on Stage Performance Schedule:
Saturday, October 17th at 4pm
Saturday, October 17th at 7pm
Please contact Ashley Williams at ashley.williams@fscj.edu or (904) 442-2933 for cast bios, high-resolution photos, and more information for Alvin and the Chipmunks, LIVE on Stage in Jacksonville.