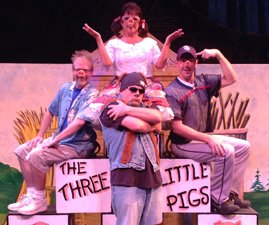 The Three Little Pigs
---
Monday, Jan. 22, 2018: 10 a.m. & Noon
An original musical that explores the flaws of human nature though the eyes of a family of stubborn pigs and a very famous wolf.
Join the three little pigs as they venture out into the world with their Papa Pig's words of wisdom to lead their way: (1) "Be sure to build a strong, sturdy house," (2) "Beware of the Big Bad Wolf," (3) "United we stand, divided we fall." But when sibling rivalry takes over, they quickly part ways. Leaving the three little pigs vulnerable to the Big Bad "Rapping" Wolf! As they learn by combining their individual strengths and working together, they can achieve anything, accept the differences in others and live together in harmony. Performed by Stages Productions
Presented by FSCJ Artist Series at the Nathan H. Wilson Center for the Arts
$8.50 per person
Grades: Pre-K-5
Curriculum Connections: Family Relations, Literature-Based, Language/Communication Skills, Music, Values-Based
Click here for a downloadable PDF: Official Educator's Guide for The Three Little Pigs
To reserve tickets for your student group today, call us (904) 632-5050 or email us.
Everyone, including infants and toddlers, must have a theater ticket for admission.