Camp Broadway
---
Camp Broadway introduces young people to the world of life on-stage and behind the scenes. Training in acting, scene study, improvisation, music theory, solo and ensemble singing, movement and dance make up the intensive class work. Triple-threat workshops give one-on-one instruction in singing, dancing and acting.
It has been proclaimed the "Camp of Dreams" for all those starry-eyed kids who are just beginning to dream of being on Broadway someday. It is a self-contained summer workshop that travels around the country, bringing Broadway to kids.
Aspiring young campers learn about the theater from 10 NY staff members of Broadway performers, choreographers and musicians. The 40 hours of camp include singing, dancing and master classes for kids ages 10-17 and every kid gets their own headshot, and a Camp Broadway t-shirt.
With authentic Broadway instructors teaching dance routines and musical numbers at the same break-neck speed as a real Broadway show, Camp Broadway is a fun-filled week of activities designed to teach kids about the serious business of live theater.
Camp Broadway, presented by the FSCJ Artist Series, is scheduled for June 11-15, 2018 in Jacksonville at the FSCJ Nathan H. Wilson Center for the Arts, 11901 Beach Blvd, Jacksonville, FL 32246.
Camp tuition is $575 for the week and includes lunch, snacks and two t-shirts. At this time the shows that campers will be in at the end of the week have not yet been determined.
To reserve a space, we require a completed application (downloadable version to the right of the screen) and payment of $575 or a deposit of $287.50 witht the remaining balance due by May 14, 2018.
CAMPER EXCLUSIVE! One free ticket to Peter Pan a 3D Stage Spectacular with the option to purchase up to three tickets at half price*
*Valid on price level 1-2 only. Facility fee and service charges not discounted. $3.50 order fee added at checkout. Offer valid until 3 p.m. on March 28, 2018. Must be registered for Camp Broadway and paid in full. Call the box office at (904)632-5000. Limited to three half priced tickets plus one free ticket per camper. Offer may be withdrawn at any time and not valid on previously purchased tickets.
Learn More about Peter Pan a 3D Stage Spectacular
Need more information, view our FAQ's or contact Amanda Faye at (904)632-5000 or email afaye@fscjartistseries.org
Nathan H. Wilson Center for the Arts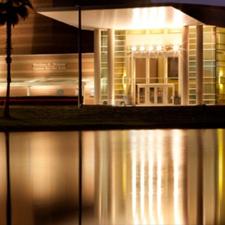 Location Information
11901 Beach Blvd.
Jacksonville, FL 32246
Directions
Download the 2018 Camp Broadway Application
Video