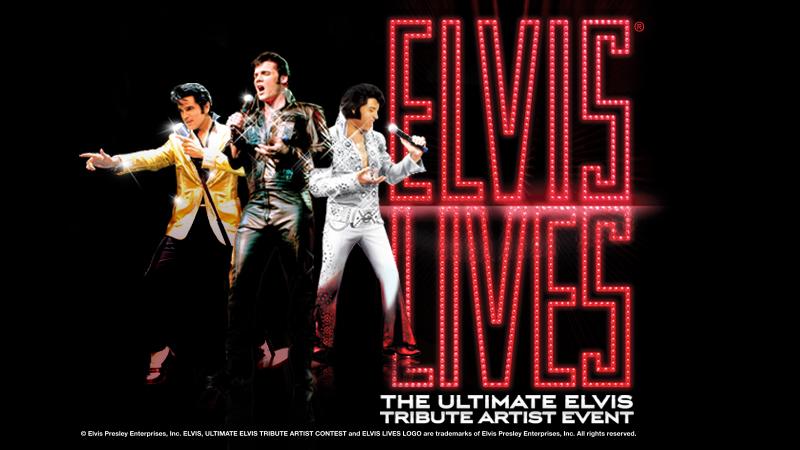 FSCJ Artist Series Presents Elvis Lives! on January 24, 2017!
The national hit theatrical Elvis Lives will be presented in Jacksonville at the Times-Union Center on Tuesday, January 24, 2017 at 7:30 p.m. for one performance only!
Elvis Lives, which keeps on capturing the imaginations and interests of fans of all types including Broadway, concert and Elvis aficionados, is an unforgettable multimedia and live musical journey across Elvis' life featuring winners from Elvis Presley Enterprises' annual worldwide Ultimate Elvis Tribute Artist Contest, each representing Elvis during different stages in his career. The Elvis tribute artists will be joined by a live band, backup singers and dancers, along with an Ann-Margret tribute artist as well as iconic imagery made available from the Graceland tribute artists in the world. These talented performers really capture the spirit archives which include an exhibit of life-size images of Elvis' stage wear that will be on display at the Times-Union Center.
The high-energy show features Ultimate winners Bill Cherry, Dean Z and Jay Dupuis, 2009, 2013 and 2014 respectively, as the principle cast for the winter/spring production of Elvis Lives.
"We are very pleased that Elvis Lives continues to delight audiences all over the nation and that Elvis fans will be given the opportunity to see these talented entertainers. We hope to see winners from the Ultimate Elvis Tribute Artist Contest starring in Elvis Lives for years to come," said Kevin Kern, Director of Public Relations for EPE.
"We are excited to be working with some of the most exceptional of the King of Rock N' Roll while evoking the sensation of being there with Elvis as he journeys through his musical career," stated Elliot Ordower, Producer for On Stage Touring. "Elvis Lives is truly a dynamic and family-friendly production."
Tickets for Elvis Lives start at $38, plus applicable fees. Tickets can be purchased at our box office from 10 a.m. – 5 p.m., Monday through Friday, by calling (904) 442-2929, or online 24/7 at www.fscjartistseries.org.
Please contact Ashley Williams at (904) 442-2933 for interview opportunities and high-resolution photos for this engagement in Jacksonville.