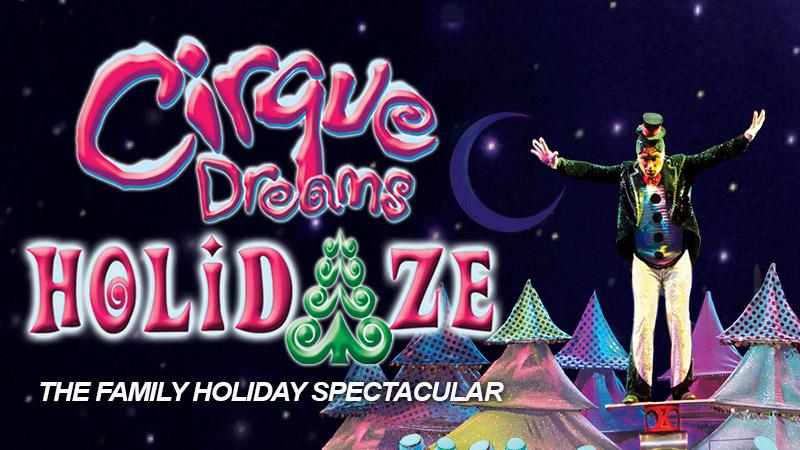 FSCJ Artist Series Presents Cirque Dreams Holidaze November 18-19, 2017!
Cirque Dreams lights up the 2017 holiday season with its critically acclaimed holiday stage extravaganza in the Times-Union's Moran Theater on November 18-19, 2017 for two performances only!
This critically-acclaimed holiday stage extravaganza CIRQUE DREAMS HOLIDAZE is a BROADWAY MUSICAL, NEW CIRQUE ADVENTURE AND FAMILY SHOW WRAPPED IN ONE!
Broadway Director Neil Goldberg has reimagined the anniversary stage spectacle of Cirque Dreams Holidaze the New York Daily News proclaimed "A delicious confection of charm, sparkle and talent by the sleigh load." Its "The perfect holiday gift and show everyone will enjoy" raved BroadwayWorld of the sold-out performances that "Dazzled…at The Kennedy Center" hailed the Washington Post.
Audiences around the country will celebrate the most wonderful time of the year at this multi-million-dollar live stage production with never before seen performances, over 300 costumes, 20 of the world's best acts, the finest singers, original music and seasonal favorites. Experience elaborate costumed characters, snowmen, penguins, candles, reindeer, toy soldiers, gingerbread men, Santa and ornaments…flying, balancing and stretching imaginations in this groundbreaking holiday celebration. Exciting theatrical production numbers, illusions and gravity-defying feats will leave you on the edge of your seats at this "Las Vegas…meets family entertainment…meets musical theatre" Cirque Dreams Holidaze production declares the Boston Globe.
Says Creator/Director Goldberg, "Our 10th anniversary season of Cirque Dreams Holidaze is not just an entertainment spectacle and uplifting holiday celebration filled with gifts of amazement but is our largest and most elaborate production to date with something for everyone in the family to share and enjoy."