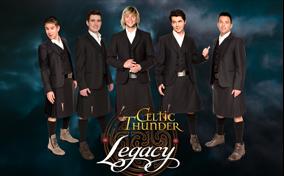 Celtic Thunder Returns With An All New Show!
Celtic Thunder returns to Jacksonville with their new show - Legacy! Taking the stage at Jacksonville's Times-Union Center's Moran Theater on October 20, 2016 for one performance only!
LEGACY is a live show featuring a mix of lively, fast paced and upbeat songs "A Place in The Choir," "Galway Girl" and "Raggle Taggle Gypsy" that represent the fun-loving nature of the Irish and slower classic ballads "Danny Boy," "Noreen" and "Buachaille On Eirne" that portray a more nostalgic and romantic side.
Continuing their tradition of paying homage to the musical culture and traditions of Ireland, Celtic Thunder's latest show is a depiction both their musical footprint over the past eight years as well as their amazing heritage of Irish and Celtic music.
Tickets start at $43 and are available through the FSCJ Artist Series and can be purchased atfscjartistseries.org and (904) 442-2929. Group discounts for 10+ are also available, (904) 442-2947 or groupsales@fscjartistseries.org.
Please contact Ashley Williams at (904) 442-2933 for interview opportunities and high-resolution photos for this engagement in Jacksonville.