February 23 2017 7:30 pm
Twyla Tharp
Times-Union Center - Moran Theater
Twyla Tharp – one of the century's most treasured artists – continues to celebrate her 50th anniversary of groundbreaking creativity and dance making with an evening of classic and new work.
About Twyla Tharp
Since graduating from Barnard College in 1963, Ms. Tharp has choreographed more than one hundred sixty works: one hundred twenty-nine dances, twelve television specials, five Hollywood movies, four full-length ballets, four Broadway shows and two figure skating routines. She has also written three books. She received one Tony Award, two Emmy Awards, nineteen honorary doctorates, the Vietnam Veterans of America President's Award, the 2004 National Medal of the Arts, the 2008 Jerome Robbins Prize, and a 2008 Kennedy Center Honor. Her many grants include the John D. and Catherine T. MacArthur Fellowship. She is a member of the American Academy of Arts and Sciences and an Honorary Member of the American Academy of Arts and Letters. In addition to choreographing for her own company Twyla Tharp Dance, she has created dances for companies worldwide, where her works continue to be performed. Today, Ms. Tharp continues to create.
About the show
The program begins with Preludes and Fugues (2015) , a work for twelve set to J.S. Bach's encyclopedicscore for piano, the "Well - Tempered Clavier." The dance radiates with Tharp's generous spirit, humanity and rigor as dancers move through duets, trios, and ensembles.
Closing the program is Tharp's beloved Nine Sinatra Songs from 1982 with music by Frank Sinatra and glittering costumes by Oscar de la Renta. The work presents a glamorous portrait of seven couples that traces the arc of romantic relationships. The dancers swing, swirl, tango and cha-cha through a ballroom, displaying Tharp's mastery of technique and imagination.
Book Online
Times-Union Center - Moran Theater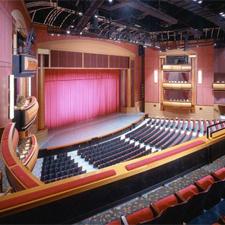 Location Information
300 Water Street
Jacksonville, FL 32202

Directions
Video