Camp Broadway
---
Camp Broadway introduces young people to the world of life on-stage and behind the scenes. Training in acting, scene study, improvisation, music theory, solo and ensemble singing, movement and dance make up the intensive class work. Triple-threat workshops give one-on-one instruction in singing, dancing and acting.
It has been proclaimed the "Camp of Dreams" for all those starry-eyed kids who are just beginning to dream of being on Broadway someday. It is a self-contained summer workshop that travels around the country, bringing Broadway to kids.
Aspiring young campers learn about the theater from 10 NY staff members of Broadway performers, choreographers and musicians. The 40 hours of camp include singing, dancing and master classes for kids ages 10-17 and every kid gets their own headshot, and a Camp Broadway t-shirt.
This year campers will perform Legally Blonde the Musical or How to Succeed in Businiess Without Really Trying at the end of the week based on their age group.
With authentic Broadway instructors teaching dance routines and musical numbers at the same break-neck speed as a real Broadway show, Camp Broadway is a fun-filled week of activities designed to teach kids about the serious business of live theater.
Camp Broadway, presented by the Artist Series, is scheduled for June 13 – 17, 2016 in Jacksonville at the Wilson Center for the Arts, 11901 Beach Blvd, Jacksonville, FL 32246. Spaces are limited and Camp Broadway fills up quickly. Register your camper today.
Need more information, view our FAQ's or contact Amanda Faye at 904.442.2932 or email afaye@fscjartistseries.org
Camp Broadway is currently full. If you would like to add your name to the waiting list, please contact Amanda Faye at 904.442.2932 or email afaye@fscjartistseries.org
CAMP BROADWAY® Disclaimer: Deposits – A minimum deposit of 50% is due at the time of application. The balance of registration is due by May 13, 2016 along with the medical release and sign-in/sign-out form. To place a deposit online, enter promo code DEPOSIT in the applicable promo code box when ordering. For Deposit Payments Via Credit Card Only: All deposits made via credit card will automatically be billed the balance of the registration fee(s) without advance notice within four (4) weeks of the program start date. You may change this automatic payment at any time by contacting Amanda Faye at (904) 442-2932 in advance. Personal Checks – Make checks payable to: ARTIST SERIES Be sure to include the Camper or Participant's name. Note: A $25 processing fee will be applied towards all returned checks. Returned checks will not be re-deposited and replacement personal checks cannot be accepted. Payment in full must then be made with a credit card to guarantee your child's space. Refunds – If you need to cancel after being accepted into Camp Broadway, your deposit is refundable minus a $50.00 handling fee up to 30 days prior to the program's start date. For cancelations within a 30 day period, the deposits and/or payments in full are non-refundable.
Nathan H. Wilson Center for the Arts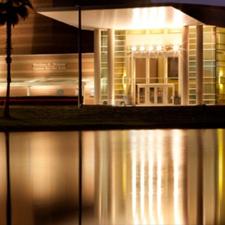 Location Information
11901 Beach Blvd.
Jacksonville, FL 32246

Directions
Camp Broadway Application and Forms
Video