May 02 - 07, 2017
Kinky Boots
Times-Union Center - Moran Theater
KINKY BOOTS is Broadway's huge-hearted, high-heeled hit! With songs by Grammy® and Tony® winning pop icon Cyndi Lauper, this joyous musical celebration is about the friendships we discover, and the belief that you can change the world when you change your mind.
Inspired by true events, KINKY BOOTS takes you from a gentlemen's shoe factory in Northampton to the glamorous catwalks of Milan.
Charlie Price is struggling to live up to his father's expectations and continue the family business of Price & Son. With the factory's future hanging in the balance, help arrives in the unlikely but spectacular form of Lola, a fabulous performer in need of some sturdy new stilettos.
With direction and choreography by two-time Tony Award-winner Jerry Mitchell (Legally Blonde, Hairspray) and a book by Broadway legend and four-time Tony Award-winner Harvey Fierstein (La Cage Aux Folles), KINKY BOOTS is the winner of six Tony Awards including Best Musical, Best Score and Best Choreography.
Take a step in the right direction and discover that sometimes the best way to fit in is to stand out. "There is no show hotter than KINKY BOOTS!" – CBS News
KINKY BOOTS BRUNCH
When:
Sunday, May 7, 2017
Brunch from 10 a.m. – 12:30 p.m.
Matinee begins at 1:30 p.m.
What:
The FSCJ Artist Series is partnering with The Candy
Apple Café and Cocktails to bring you Kinky Boots and
Brunch!
Your $100 ticket includes:
• Brunch from a limited menu at The Candy Apple Café
• The exclusive Kinky Boots cocktail, Kinky Champs
• A ticket to the Sunday Matinee of Kinky Boots at the
Times Union Center on May 7, 2017*
• Tax and gratuity for your brunch
Where:
The Candy Apple Café & Cocktails
400 N. Hogan Street, Jacksonville, FL 32202
*Once you have purchased your combination ticket, please call The Candy Apple Café a t
(904) 353-9717 to make your reservation for Sunday, May 7.
For regular sitting use the button below.
Book Online
Times-Union Center - Moran Theater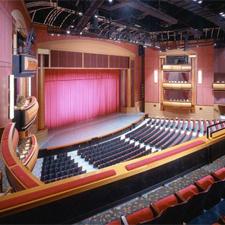 Location Information
300 Water Street
Jacksonville, FL 32202

Directions
Video