Renew Your Broadway Season Subscription
---
RENEW YOUR BROADWAY SEASON TODAY! LOCK IN THE BEST SEATS AT GUARANTEED PRICES and NEVER HEAR THE WORDS "SOLD OUT."
CHOOSE THE EASIEST WAY TO RENEW YOUR BROADWAY SEASON PACKAGE TODAY!
RENEW SEASON TICKETS ONLINE 24/7 (click here to log in to your account) If there are no requested seating or show changes from last season, you can renew online. If you are interested in changing your seats or performance, please renew by phone, email or by mail.
Renew By Phone: (904) 632-5000 1(888) 860.BWAY (Toll Free) M-F 10 a.m. - 5 p.m.
Renew By Mail: (return completed invoice) FSCJ Artist Series Renewals 501 W. State Street, Suite 109 Jacksonville, FL 32202
Renew in Person: M-F, 10 a.m. to 5 p.m. at our Box Office, 501 W. State Street, Suite 109, Jacksonville, FL 32202
TRY OUR EASY THREE-PAYMENT PLAN - Available for renewing subscribers.
A 1/3 of total package price due on order.
The remaining two payments will automatically be charged to your credit card on June 1, 2018 and July 6, 2018
Payment plan credit cards must have an expiration date after August 2018.
Four-show Broadway Season Package
The King and I
November 13-18, 2018
Set in 1860's Bangkok, the musical tells the story of the unconventional and tempestuous relationship that develops between the King of Siam and Anna Leonowens, a British schoolteacher whom the modernist King, in an imperialistic world, brings to Siam to teach his many wives and children. THE KING AND I is "too beautiful to miss" (New York Magazine).
Les Misérables
January 22-27, 2019
Cameron Mackintosh presents the new production of Alain Boublil and Claude-Michel Schönberg's Tony Award-winning musical phenomenon, Les Misérables, direct from an acclaimed two-and-a-half-year return to Broadway. Set against the backdrop of 19th-century France, Les Misérables tells an unforgettable story of heartbreak, passion, and the resilience of the human spirit.
Inspired by Adrienne Shelly's beloved film, WAITRESS tells the story of Jenna - a waitress and expert pie maker, Jenna dreams of a way out of her small town and loveless marriage. A baking contest in a nearby county and the town's new doctor may offer her a chance at a fresh start, while her fellow waitresses offer their own recipes for happiness. But Jenna must summon the strength and courage to rebuild her own life.
School of Rock
April 16-20, 2019
Based on the hit film, this hilarious new musical follows Dewey Finn, a wannabe rock star posing as a substitute teacher who turns a class of straight-A students into a guitar-shredding, bass-slapping, mind-blowing rock band. This high-octane smash features 14 new songs from ANDREW LLOYD WEBBER, all the original songs from the movie and musical theater's first-ever kids rock band playing their instruments live on stage. Vanity Fair raves, "FISTS OF ALL AGES SHALL BE PUMPING!"
The national tour of the Broadway musical HAMILTON will play in Jacksonville as part of the 2019-2020 season. Subscribers who renew their subscription for the 2018-2019 season will be able to guarantee their seats for the premiere engagement of HAMILTON in 2019-2020 before tickets become available to the general public.
HAMILTON is the story of America's Founding Father Alexander Hamilton, an immigrant from the West Indies who became George Washington's right-hand man during the Revolutionary War and was the new nation's first Treasury Secretary. Featuring a score that blends hip-hop, jazz, blues, rap, R&B, and Broadway, HAMILTON is the story of America then, as told by America now.
*Access to subscriber additional tickets and exchanges may be restricted or not available for Hamilton.
Join the VIP Theater Club for even more great perks!
Accessible Seating Tickets - FSCJ Artist Series strives to make it easy to purchase accessible seating tickets for all productions. To purchase, please call a FSCJ Artist Series representative at (904) 632-5000 and we will be happy to assist. Accessible seating are solely for people with disabilities and their companions. Click here for more information.
Due to the nature of live entertainment, prices, shows, dates, schedules and artists are subject to change without notice. All sales final. No refunds. Season Subscriptions, and all tickets and additional tickets purchased under any subscription are subject to the Broadway Across America Standard Season Subscription Terms and Conditions. By purchasing a Season Subscription, you agree to such Terms and Conditions.
VIP Theater Club membership contributions do not include the cost of a season ticket package. VIP Theater Club member receive priority access to premium seat locations, available only to these members, prior to single tickets being placed on sale to the general public. Season ticket packages must be purchased.
Times-Union Center - Moran Theater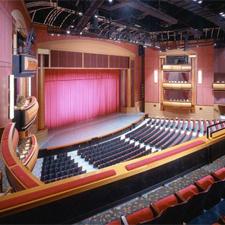 Location Information
300 Water Street
Jacksonville, FL 32202
Directions
2018-2019 Season Information