March 22 2019 7:30 pm
Get Happy: Angela Ingersoll Sings Judy Garland
Nathan H. Wilson Center for the Arts
"Simply magnificent... The best Judy Garland Chicago ever saw. Barring the real one. ...What a performance!" -Chicago Tribune
About the Show:
A star is born as award-winning dynamo Angela Ingersoll celebrates American icon Judy Garland, as seen on her current PBS television special. Live in concert, Ingersoll shines as a force all her own. She superbly captures Garland's emotional and vocal power, and crafts passionate stories with a naturally winning humor. Chicago Sun-Times exclaims, "Phenomenal. Judy Garland has been reborn." Broadway World raves, "Ingersoll is transcendent... singing classic after classic to flawless perfection." Songs include "Over the Rainbow," "Come Rain Or Come Shine," and "The Man That Got Away." Presented by Artists Lounge Live.
About Angela Ingersoll:
Broadway World raves "her charm onstage is infectious... Ingersoll is brilliant." Angela Ingersoll recently debuted her PBS television concert special Get Happy: Angela Ingersoll Sings Judy Garland. For her star turn portraying Garland in the play End of the Rainbow (Chicago, Los Angeles), Ingersoll earned Chicago's Jeff Award, a Broadway World Award, and Top Performances honors from both Chicago Tribune and Chicago Sun-Times. Her compelling presence attracted the attention of Garland's family, with Ingersoll enjoying the distinction of partnering with Garalnd's son onstage for Joey Luft and Angela Ingersoll Celebrate Judy Garland. Other standout theatre performances include How to Succeed in Business Without Really Trying (Hedy LaRue, Jeff Award Nomination), South Pacific (Nellie), Carousel (Julie), Disney's Beauty and the Beast (Belle, Ostrander Award), Man of La Mancha (Aldonza, Ostrander Award Nomination), Jekyll and Hyde (Lucy, Ostrander Award), The Secret Garden (Martha, Jeff Award Nomination), Much Ado About Nothing (Beatrice), Macbeth (Lady Macbeth, Ostrander Award), Richard III (Lady Anne), The Merry Wives of Windsor (Mistress Quickly), The 39 Steps, The Game's Afoot (Daria), The Great Gatsby (Myrtle), and The Wizard of Oz (Dorothy). Comedy: Second City Hollywood. Other TV: Chicago PD. Concerts: Get Happy: Angela Ingersoll Sings Judy Garland, The 12 Dames of Christmas, I Gotta Right To Sing The Blues, and Happy Together (with husband Michael Ingersoll).
Buy Tickets
Nathan H. Wilson Center for the Arts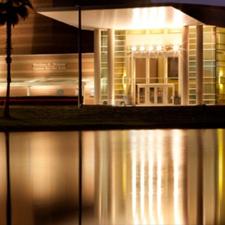 Location Information
11901 Beach Blvd.
Jacksonville, FL 32246
Directions
Video