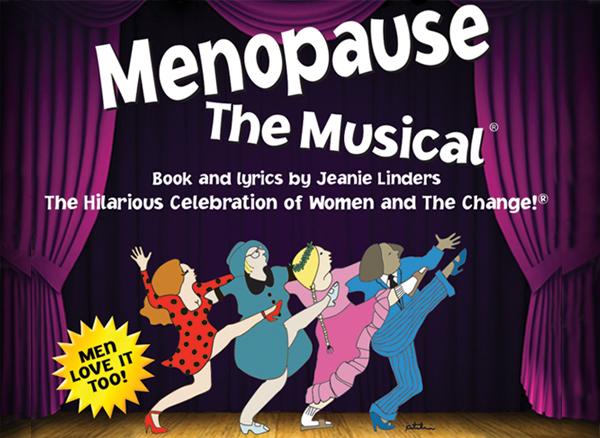 FSCJ Artist Series Presents Menopause the Musical from May 7-10, 2015
The FSCJ Artist Series and GFour Productions, are proudly bringing the international hit show Menopause The Musical® to Jacksonville's Times-Union Center's Terry Theater for 6 performances, May 7 - 10th, including matinees and evenings. Tickets to Menopause the Musical® are on sale now.
Menopause The Musical® is a groundbreaking celebration of women who are on the brink of, in the middle of, or have survived "The Change." Now celebrating 13 years of female empowerment through hilarious musical comedy, Menopause The Musical® has evolved as a "grassroots" movement of women who deal with life adjustments after 40 by embracing each other and the road ahead.
Set in a department store, four women meet by chance while shopping for a black lace bra at a lingerie sale. After noticing unmistakable similarities among one another, the all-female cast jokes about their woeful hot flashes, mood swings, wrinkles, weight gain and much more. These women form a sisterhood and unique bond with the entire audience as they rejoice in celebrating that menopause is no longer "The Silent Passage."
Inspired by a hot flash and a bottle of wine, Menopause The Musical® was created as a celebration of women who find themselves at any stage of "The Change." The laughter-filled 90-minute production gets audience members out of their seats and singing along to parodies from classic pop songs of the '60s, '70s and '80s.
Menopause The Musical®, now in its thirteenth year of production, is recognized as the longest-running scripted production in Las Vegas and continues to entertain nightly at Luxor Hotel and Casino. The hilarious musical has entertained audiences across the country in more than 450 U.S. cities, nearly 300 international cities and a total of 15 countries. For more information, visit www.MenopauseTheMusical.com.
About GFour Productions
GFOUR PRODUCTIONS (Producer) GFour Productions is represented this season with their breathtaking revival of LADY DAY AT EMERSON'S BAR AND GRILL, the production that recently earned Audra Mcdonald, as the unforgettable Billie Holiday, her record-breaking 6th Tony Award®; their 40 week tour of the Tony Award® winning THE GERSHWIN'S PORGY AND BESS; the 2014 Drama League Award® winning revival of THE GLASS MENAGERIE starring Cherry Jones and Zachary Quinto; and the 5 time Tony Award®, 5 time Drama Desk Award®, and 7 time Olivier Award® winning MATILDA THE MUSICAL. GFour recently premièred the Spanish-language version of their international hit, MENOPAUSIA EL MUSICAL, in Hollywood, CA. They began producing in 1981 with NINE, winning the Tony Award® that year for Best Musical. Among their favorite Broadway productions are MY ONE AND ONLY starring Tommy Tune, ZORBA THE GREEK starring Anthony Quinn, THE RINK starring Liza Minnelli, BABY, GRAND HOTEL, GRIND, BIG, TRUE WEST, the original and the revival of LA CAGE AUX FOLLES which won them Tony Awards for Best Musical in 1983 and Best Revival in 2004. Their combined shows have been nominated for 124 Tony Awards®, winning 47 and 114 Drama Desk Awards®, winning 57. For more information, please visit GFourProductions.com.
MENOPAUSE THE MUSICAL Jacksonville Performance Schedule:
Thursday, May 7th – 7:30 pm
Friday, May 8th – 8pm
Saturday, May 9th – 4:30 pm and 8pm
Sunday, May 10th – 1pm and 5:30 pm
Tickets for Menopause the Musical start at $52.50, and can be purchased at www.artistseriesjax.org and (904)-442-2929. Group discounts for 10+ are also available, 904-442-2937 or groupsales@fscj.edu.
Please contact Ashley Williams at ashley.williams@fscj.edu or (904) 442-2933 for cast bios, high-resolution photos, and more information for Menopause the Musical in Jacksonville.