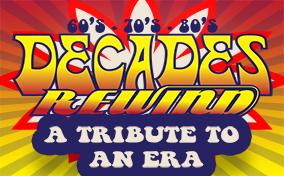 FSCJ Artist Series Presents Decades Rewind on June 3-4, 2016
Decades Rewind comes to Jacksonville's Times-Union Center's Terry Theater on June 3-4, 2016 for two performances only!
Take a trip down melody lane with Decades Rewind, featuring more than 60 songs effortlessly blended into unique medleys from the most prominent decades in music history. This fully live concert experience features an eight-piece rock band and six brilliant rocking vocalists surrounded by rock and roll stage lighting, poignant videos of American culture and more than 100 costume changes.
From Abba to Zeppelin, Decades Rewind will have you singing along and dancing in your seats on a magical rock musical extravaganza you won't forget.
Tickets start at $27.50 and are available through the FSCJ Artist Series and can be purchased at fscjartistseries.org and (904) 442-2929. Group discounts for 10+ are also available, (904) 442-2947 or groupsales@fscjartistseries.org.
Please contact Ashley Williams at (904) 442-2933 for interview opportunities and high-resolution photos for this engagement in Jacksonville.