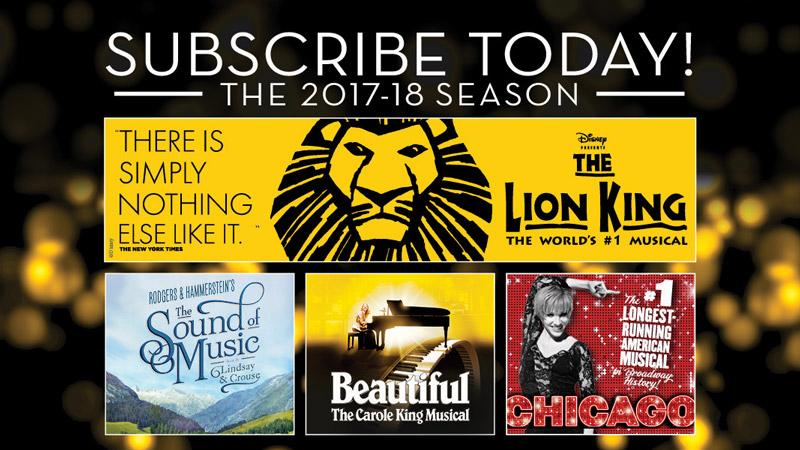 FSCJ Artist Series Announces 2017-18 Broadway in Jacksonville Season!
The FSCJ Artist Series, sponsored by Vystar Credit Union, is thrilled to announce the 2017-18 Broadway in Jacksonville season, filled with award-winning blockbusters and family favorites.
Next season's lineup will feature Broadway in Jacksonville's debut of Tony and Grammy Award®-winning BEAUTIFUL– The Carole King Musical along with the Tony Award®-winning audience favorites Rodgers & Hammerstein's THE SOUND OF MUSIC, Disney's THE LION KING, and CHICAGO. All performances will be at the Times-Union Center.
"I am pleased to announce our 2017-18 Broadway in Jacksonville Season – our 52nd year of presenting outstanding entertainment on the First Coast," said Dr. Milt Russos, executive director of the FSCJ Artist Series. "It will be a season of Tony Award®-winning blockbusters with three productions currently on Broadway."
FOUR-SHOW BROADWAY SUBSCRIPTION
THE SOUND OF MUSIC October 31-November 5, 2017
Disney's THE LION KING January 31- February 11, 2018
BEAUTIFUL–The Carole King Musical April 10-15, 2018
CHICAGO May 17-20, 2018
Tickets for our four-show packages start at just $152 and are available through the FSCJ Artist Series and can be purchased at fscjartistseries.org or by phone at (904) 632-5000.
Please contact Ashley Williams at (904) 357-8938 for interview opportunities and high-resolution photos for all shows coming this season to Jacksonville.