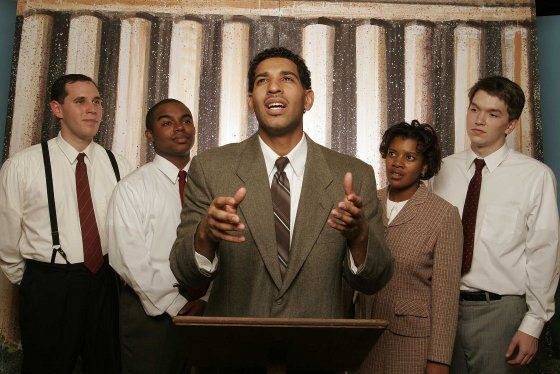 I Have a Dream - The Life and Times of Dr. Martin Luther King, Jr.
---
Friday, Feb. 2, 2018: 10 a.m. only
By Bruce Craig Miller
The phenomenal impact of Dr. Martin Luther King, Jr. is chronicled in this compelling dramatization of the life and times of one of the most influential and charismatic leaders of the "American Century." Inspired by the arrest of Rosa Parks, Dr. King becomes the prime mover behind the Montgomery, Alabama bus boycott, putting his philosophy of non-violent protest to work. He gains national recognition and becomes the dominant force in the Civil Rights Movement during its decade of greatest achievement. Your students will be inspired by the story of this great leader's struggle and his dream of lifting "our nation from the quicksand of racial injustice to the solid rock of brotherhood." Performed by Virginia Repertory
Presented by FSCJ Artist Series at the Nathan H. Wilson Center for the Arts
$8.50 per person
Grades: 3-Adult
Curriculum Connections: Biography, Language Arts, History, Multi-Cultural, Public Speaking, Reading, Self-Esteem, Character Development, Values-Based
Click below for downloadable PDFs: I Have a Dream Study Guide
To reserve tickets for your student group today, call us (904) 632-5050 or email us.
Up To 19 Tickets for the 10 a.m. performance only.
Everyone, including infants and toddlers, must have a theater ticket for admission.